Credit: Read the original article from PNA Latest News.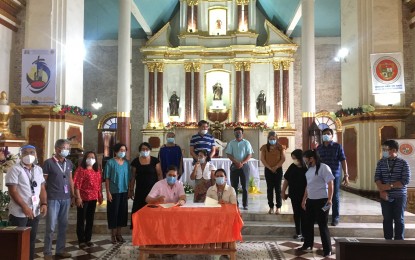 MOU SIGNING. Members of the Technical Working Group (TWG) witness on Friday (Dec. 18, 2020) the signing of a memorandum of understanding (MOU) between the local government unit of San Nicolas represented by Mayor Alfredo Valdez Jr, and the Department of Education in Ilocos Norte represented by Schools Division Superintendent Joann Corpuz. Under the agreement, barangay education workers will be deployed to assist struggling learners under the new normal education system. (PNA photo by Leilanie G. Adriano)
LAOAG CITY – It takes a village to educate a child. True to its form, the San Nicolas municipal government in partnership with the Department of Education (DepEd), and the public and private sectors have collaborated to assist struggling learners under the new normal education system.
Hosted by the centuries-old diocesan shrine of San Nicolas de Tolentino Church in San Nicolas, Ilocos Norte, the Barangay Education Workers Program and Learning Management System was launched on Friday to ensure that no learner — both from the primary and secondary schools of San Nicolas, is left behind.
Bothered by the performance of learners in a global survey that ranks the Philippines as one of the lowest in terms of reading comprehension as well as in Science and Mathematics, Mayor Alfredo Valdez sounded that, "we should do our part".
So, with the help of the pillars of education in his town, they came up with an intervention to help learners who need it most. Their main target is the struggling learners in the village who have limited access to technology and those whose parents or guardians are less capable to guide their children on homeschooling.
Funded by the local government unit of San Nicolas, close to 100 barangay education workers, mostly composed of young licensed teachers who have no permanent jobs, will be deployed in all barangays of San Nicolas to provide at least four hours of free tutorial services in the community learning centers per day.
While the threat of coronavirus disease 2019 (Covid-19) pandemic continues, the village education workers shall ensure minimum health and safety protocols are strictly observed.
A Technical Working Group, composed of representatives from the local government unit, DepEd, Parents and Teachers Association including private and non-government organizations who have passion for education, was also created to ensure the smooth implementation of the program.
Likewise, the TWG is also tasked to evaluate and review self-learning learning materials to be uploaded in the Learning Management System, a dedicated education website for San Nicolas learners where education can take place anytime and anywhere with the use of a mobile phone or other available learning gadgets.
"There are actual indicators that something is wrong with our education system. Everything is virtual already because of Covid-19 and this is something new to all of us. Covid-19 is worst than war. When I learned that face-to-face classes are not allowed, this brought sadness to my heart because our children need our guidance," Valdez said.
Aside from donating printers and computers with high-speed internet in the 24 barangays of San Nicolas and schools, the local government unit likewise improved and upgraded its i-hub center located at the town proper or just beside the municipal hall building.
At least one unit of computer designed for the differently-abled person is also available at the municipal i-hub, including educational books and other learning references. It also has a cozy space for reading while coffee and other refreshments may be had at the adjacent cafeteria.
Regardless of how much budget is needed in putting up the program, Valdez underscored that it is worth investing in the education of children.
Following the formal signing of a memorandum of understanding between the San Nicolas government and the DepEd on Friday, Ilocos Norte Schools Division Superintendent Joann Corpuz lauded the collaborative efforts of the people of San Nicolas as she expressed hope this will be sustained in future endeavors.
"San Nicolas has been innovating a lot of activities that help improve learning outcomes. Thank you to our barangay education workers and our untiring educators, who may have been retired in service but they never get tired of sharing their education expertise," Corpuz said as she bared plans of the department to establish a pilot program for face-to-face classes in less risky areas of the province.
Meanwhile, the DepEd in Ilocos Norte is also pushing for digitized learning instead of modular learning to save on paper and preserve the environment as well. (PNA)