Credit: Read the original article from Philstar Headlines.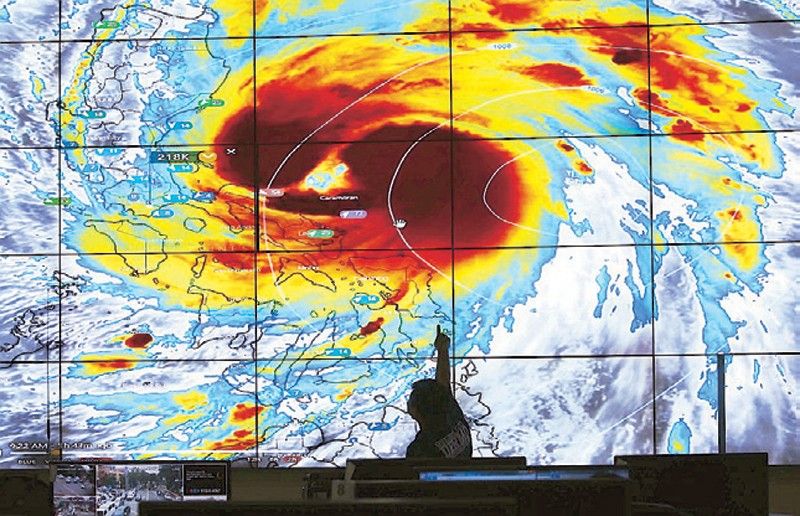 MANILA, Philippines — Thousands of residents in the Bicol region were evacuated yesterday ahead of Typhoon Ulysses, which was expected to make landfall over Camarines Norte and Quezon province last night.
Ulysses (international name Vamco), the 21st tropical cyclone to enter the Philippines this year, will continue to bring heavy to intense and at times torrential rains over Camarines Norte, Camarines Sur, Metro Manila, Calabarzon, Aurora, Bulacan, Pampanga and Bataan early today.
Moderate to heavy to at times intense rains will prevail over the Cordillera Administrative Region, mainland Cagayan Valley, Catanduanes, Marinduque, northern portion of Mindoro provinces and the rest of Central Luzon.
The rest of Luzon and the Visayas will experience light to moderate with at times heavy rains.
Heavy rains since Tuesday caused floods and landslides, forcing at least 5,000 residents to evacuate from their homes in Cagayan and other parts of Northern Luzon.
Destructive winds and intense to at times torrential rainfall – associated with the typhoon's eyewall and inner rainbands – were experienced in Camarines Sur and Camarines Norte yesterday.
It was also expected to bring destructive winds and intense to torrential rains over Aurora and the northern portion of Quezon last night until early this morning.
The outer rainbands of Ulysses also started to drench Metro Manila and parts of Central and Southern Luzon.
It was forecast to make landfall in the vicinity of Calaguas Islands, Camarines Norte then Polillo Islands and mainland Quezon last night.
The typhoon was likely to cross Central Luzon and emerge over the western seaboard of Zambales this morning.
Ulysses was expected to reach peak winds of 140 to 155 kilometers per hour prior to landfall, the Philippine Atmospheric, Geophysical and Astronomical Services Administration (PAGASA) said.
"We're not yet ruling out the possibility that its eye will hit Metro Manila," PAGASA senior weather forecaster Chris Perez said at the 5 p.m. press briefing.
The typhoon's eye is likely to pass near Metro Manila between 4 a.m. and 6 a.m. today, he said.
Perez said Ulysses is not expected to intensify into a super typhoon.
Ulysses is likely to "slightly" weaken as it crosses mainland Luzon due to presence of the Sierra Madre and Zambales mountain ranges.
"However, it is likely to remain a typhoon throughout," PAGASA said.
As of 5 p.m., Tropical Cyclone Wind Signal No. 3 was raised over Metro Manila, southern portion of Quirino, southern portion of Nueva Vizcaya, Pangasinan, Nueva Ecija, Aurora, Tarlac, Zambales, Bataan, Pampanga, Bulacan, Rizal, Cavite, Laguna, northern and central portions of Quezon including Polillo Islands, Batangas, Catanduanes, Camarines Norte and northern portion of Camarines Sur.
Signal No. 2 was raised over the rest of Quirino, the rest of Nueva Vizcaya, southern portion of Benguet, southern portion of La Union, the rest of Quezon, Marinduque, northern portion of Occidental Mindoro including Lubang Island,  northern portion of Oriental Mindoro, the rest of Camarines Sur, Albay, Sorsogon and Burias and Ticao Islands.
Signal No. 1 was up in Isabela, Kalinga, Mountain Province, Ifugao, the rest of Benguet, Abra, Ilocos Sur, the rest of La Union, the rest of Occidental Mindoro, the rest of Oriental Mindoro, Romblon, the rest of Masbate, Northern Samar, northern portion of Samar and northern portion of Eastern Samar.
As of 4 p.m., the eye of the typhoon was spotted 60 kilometers east northeast of Daet, Camarines Norte, packing winds of 140 kilometers per hour near the center and gustiness of up to 195 kph.
It was forecast to move west at 20 kph.
PAGASA warned against storm surges with heights of up to three meters along the coastal areas of Aurora, Quezon including Polillo Islands, Camarines Norte, Catanduanes and northern and eastern Camarines Sur.
Storm surges of up to two meters high were also expected along the coastal areas of La Union, Pangasinan, Isabela, Zambales, Bataan, Pampanga, Bulacan, Metro Manila, Cavite, Batangas, northern portions of Mindoro provinces including Lubang Island, Marinduque, Romblon, Masbate including Ticao and Burias Islands, Albay and Sorsogon and the remaining coastal areas of Camarines Sur.
"These storm surges, which may be accompanied by swells and/or breaking waves near the coast, can cause life-threatening and damaging coastal inundation," the weather bureau said.
Floods
Cagayan Gov. Manuel Mamba said floods spawned by heavy rains have displaced at least 5,000 residents in Tuguegarao City, Aparri, Alcala, Ballesteros, Buguey, Gonzaga, Claveria, Lallo, Pamplona, Sanchez Mira and Sta. Praxedes.
The displaced individuals were taken to 26 evacuation centers while others sought refuge with relatives on safer ground.
Heavy rains brought by Typhoon Ulysses forced local officials to close yesterday sections of six roads and a bridge in Regions 1, 2 and the Cordillera Administrative Region (CAR).
The National Disaster Risk Reduction and Management Council (NDRRMC) said roads have to be closed due to mudslides or landslides, rockslides, fallen trees and flooding in Ilocos Norte, Cagayan, Isabela, Quirino, Apayao and Kalinga.
Landslides and floods closed the stretch of the Manila North Road between the Ilocos region and Cagayan Valley as heavy rains hit the area since Tuesday.
The Department of Public Works and Highways-Ilocos region advisory yesterday said major landslides in the portion of Barangay Pancian in Pagudpud, Ilocos Norte stalled hundreds of motorists while clearing operations were ongoing.
Portions at the Cagayan Valley side of the highway in Sta. Praxedes, Cagayan were also blocked by floods and landslides.
Also hit by landslides along Manila North road are portions of Barangay Kilkiling in Claveria, Cagayan.
Flooding and landslides have been occurring along the stretch of the Manila North Road between Cagayan and Ilocos Norte since last week due to tail-end rains.
President Duterte ordered yesterday the suspension of work in government offices and classes in all levels at public schools in the National Capital Region, Regions 2, 3, Calabarzon, Mimaropa and CAR due to inclement weather.
Executive Secretary Salvador Medialdea issued memorandum order No. 82 which called for the suspension of work and classes by 3 p.m. upon recommendation of the NDRRMC.
The suspension was also extended until today to ensure the safety of residents in the areas affected by the typhoon.
The Provincial Disaster Risk Reduction Management Office of Bulacan reported that as of 8 a.m. yesterday, the water level of Angat Dam has slightly risen to 205.55 meters, Ipo Dam at 100.83 meters and Bustos Dam at 15.81 meters compared to Tuesday's 205.13 meters, 100.55 meters and 16.49 meters, respectively.
Angat Dam's water level is slowly inching toward its 212-meter normal high water level while Ipo Dam is just 0.17 meter below its spilling level and Bustos Dam is 1.19 meters below its spilling level of 17 meters. – Christina Mendez, Neil Jayson Servallos, Michael Punongbayan, Rudy Santos, Robertzon Ramirez, Cesar Ramirez, Ding Cervantes, Ric Sapnu, Raymund Catindig, Ramon Efren Lazaro, Victor Martin
Related video: