Credit: Read the original article from PNA Latest News.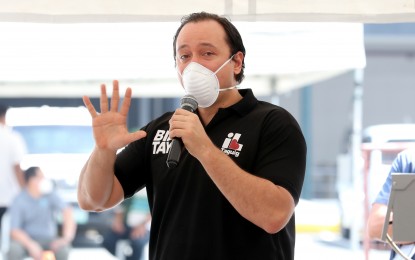 Taguig Mayor Lino Cayetano. (File photo)
MANILA – Taguig Mayor Lino Cayetano on Friday said the local government would implement stricter health protocols despite the city having the lowest active cases of coronavirus disease 2019 (Covid-19) per 100,000 population in Metro Manila.
As of Dec. 15, Cayetano said Taguig registered only five active Covid-19 cases per 100,000 population, much lower compared to the 22 cases per 100,000 recorded by the rest of Metro Manila.
He added that the 46 active cases registered as of Dec. 16 are still the lowest in Metro Manila.
The city has so far recorded a total of 10,226 Covid-19 cases.
For the week of Dec. 9 to 15, Cayetano said the city has recorded 284 positive cases, with 57 average active cases. Of the total Covid-19 cases in the city, he said 10,077 or 98.16 percent have recovered.
"So far, 122 have died of Covid-19 in the city, with a case fatality rate of 1.19 percent. This is far less than the 2.90 percent case fatality rate of Metro Manila," Cayetano said.
He added the attack rate, or the proportion of people who become sick with Covid-19, is at 1.03 percent in Taguig, far less than the 1.08 percent in the National Capital Region.
While noting that Taguig is on the "right track" on curbing Covid-19 cases, Cayetano said the local government would continue to hold establishments "accountable and responsible" for any violation as the "freedom of movement" in Metro Manila sees people from different cities in the region gathering in the city's malls and other places.
"Habang mababa ang mga kaso natin (While we have low cases), we can continue to open for business. Wag tayo magpabaya (Let's not be complacent), especially this coming Christmas and holiday season," he said.
Cayetano also noted that there were observed spikes in Covid-19 cases in cities around the world as the holidays drew near, adding that establishments in the city can remain open only if Taguigenos and people from other cities know it is safe to be in those places in the first place.
He said that if Covid-19 cases rise towards the end of December until February, the city might return to the time when all business establishments were closed due to lockdowns.
"So kung gusto ho natin na magtuloy-tuloy na magbukas ho tayo, dahan-dahang bumalik sa normal na buhay, kailangan maging maingat tayo (If we want to keep businesses open and gradually return to normal, we have to be careful)," he said.
He also urged individual Taguigeños to do their part.
When dining in restaurants, for example, he said they should only remove their masks when they are eating.
He said they should also wear their face shields and face masks when with other people, whether in the office or other establishments.
"The project is the vaccine will come around March or April (2021). Isn't it saddening if between December and March (2021), we would have many cases and many would die because of our complacency?" he said.
He urged Taguigeños to have themselves tested if they show symptoms such as a cough, a fever, colds, or were exposed to a Covid-19 patient as testing has been always free in the city with all health centers conduct testing twice a week.
Aside from these, there are also drive-through test centers available at Lakeshore and in Bonifacio Global City, and a mobile testing truck, he added.
So far, Cayetano said Taguig has conducted 89,298 PCR tests, with an average of 598 tests per day this week.
"Let's be responsible, let's continue to work together, let's continue to trust each other and believe in each other," he added. (PNA)