Credit: Read the original article from PNA Latest News.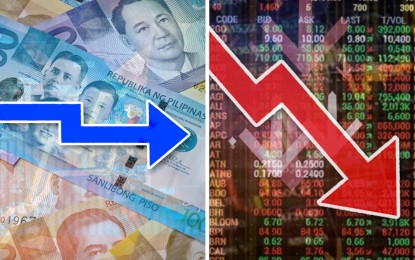 MANILA – The Philippine Stock Exchange index (PSEi) slipped anew Friday as investors preferred safe haven but the peso managed to end sideways against the US dollar.
The main equities index shed 0.35 percent, or 25.22 points, to 7,272.80 points.
All Shares moved sideways after it slipped by 0.02 percent, or 0.94 percent, or 4,349.35 points.
Half of the sectoral indexes gained during the day while the other half declined.
Those that posted increases are Industrial, 0.78 percent; Services, 0.73 percent; and Mining and Oil, 0.10 percent.
The Financials index declined by 1.16 percent; Services, 0.73 percent; and Property, 0.25 percent.
Volume totaled 23.55 billion shares amounting to PHP11.88 billion.
The number of advancers and decliners equaled 110, while 50 shares were unchanged.
"Philippine shares were sold down due to a combination of the FTSE rebalancing and the investors flocking back into the US markets with betting on additional aid to be distributed before the year ends," Luis Limlingan, Regina Capital Development Corporation head of sales, said.
Limlingan also cited the rise of oil prices in the international market "on the back of the market's optimism towards another round of US fiscal deal and strong Asian demand."
The Brent crude futures rose to USD51.42 per barrel and US WTI futures increased to USD48.27 per barrel.
Meanwhile, the peso ended the week sideways against the US dollar at 48.085 from 48.045 a day ago.
It opened the day at 48.05 and traded between 48.085 and 48.04. This resulted in an average of 48.056.
Volume totaled USD797.82 million, higher than the USD674.59 million a day ago. (PNA)