Credit: Read the original article from Philstar Headlines.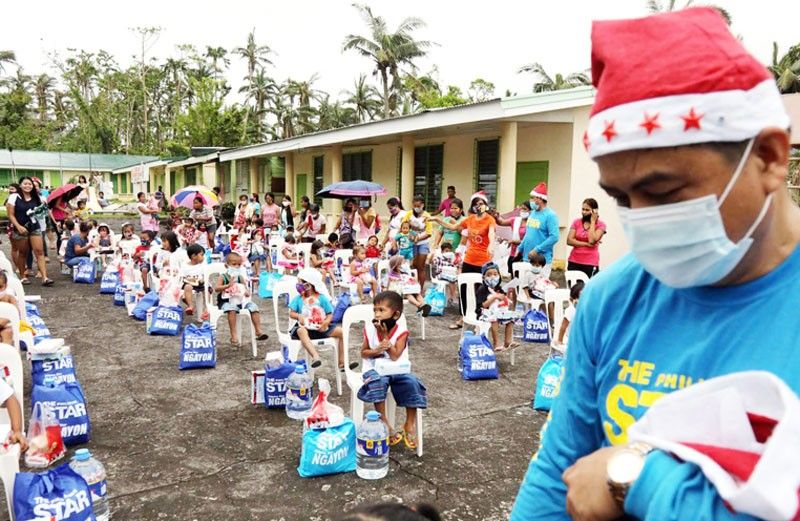 MANILA, Philippines — At least 1,800 families and 200 children who were heavily affected by three typhoons that hit Bicol have received food and non-food assistance from The Philippine STAR through the Social Action Center (SAC) of the Diocese of Legazpi in Albay.
The recipients, who were pre-identified by SAC, came from the poorest and most displaced families in Albay's hardest-hit towns of Guinobatan, Malinao and Tabaco City.
The STAR and SAC personnel gave beneficiaries of the "Ayuda sa Albay" relief operations a gallon of bottled water, canned goods, blankets and mats and other food and non-food items.
Of the 2,000 recipients, 700 were residents of Barangay Balading, while another 700 came from Barangay Estancia, both in the typhoon-battered Malinao town; and 400 residents from Guinobatan, another typhoon and lahar-hit Albay town.
Some 200 children of poor and typhoon-displaced families in Tabaco City were handed Jollibee food packs, powdered milk, bottled water, toys and cash.
The children came from the barangays of San Vicente, San Antonio, Bantayan, Tabiguian, Quinastillojan and Buang, and from the orphanage of the Holy Cross Children's House Foundation, also in Barangay San Antonio, all in Tabaco City.
Emie Cruz, The STAR Operation Damayan overall head, said they did away with the usual program that includes games because of COVID-19 quarantine protocols, particularly on social distancing.
"But still, we are giving you toys as our gift for you this Christmas," Cruz told the children, with their parents or guardians all smiles during the relief distribution.
"We are very blessed to have you. Thank you for extending your helping hand to us," Sr. Lilian Salubre, administrator of the Holy Cross Children's Home Foundation, told The STAR after 20 in-house children under her care received Jollibee packs and toys.
"We are very happy. Thank you for your gifts," said nine-year old Princes Cervantes and eight-year old Nilda Guipit.
Lola Lolita Sapico said her three-year-old grandson was very happy when he received a toy car during the gift-giving held at the Mayon Volcano foot-slope village of Buang.
"He smiled wide. He is very happy when he saw the toy car from you," Lola Lolita said in her native language.
Five-year old Jayson Riofrio said he liked the Jollibee pack.
"We never expected that my son will be chosen by our parish to receive these goods. We are in fact surprised when told to come here," Jayson's mother Gelina said during the gift-giving in Barangay Tabiguian.
Recipients from the villages where houses were either uprooted, toppled or flattened could not help but recall their ordeal when the three typhoons with very strong winds and torrential rains hit Albay.
Seven-month pregnant Julie Ann Banzuela said she was gripped with fear when the wind started whistling and pummelling their evacuation center. She did not know yet that the eye of Super Typhoon Rolly had hit Malinao town.
"I was not only afraid for myself. I was more afraid that something could happen to my baby," said Banzuela, a resident of Barangay Baliding.
Balading residents were handed relief goods by The STAR as one of the hardest-hit villages in Malinao.
"Thank you very much for coming over and handing us these relief goods. Especially these blankets, mats and mineral water. We are in dire need of them," Banzuela said in her language.
Rhea Saludado, a barangay kagawad of Balading who actively helped in the distribution of the relief items, expressed so much gratitude for the help that her constituents had received.
"You are the first one who gave us these kinds of relief items. We really need blankets and mats. And bottled water. Our houses were submerged in neck-deep floods at the height of the lashings of Rolly," Saludado said.
She said they could not forget the good gesture that The STAR had accorded them.
"I have nothing else to say but a very big thank you," Saludado continued.
No less than Balading's chairman, Des Barry, admitted that they were surprised when told by SAC coordinators that his village was a recipient of relief operations by The STAR.
"What else could I say, but a very big thanks to you. You come while we are in dire need of any assistance. My village was one of those areas in Malanao that suffered the worst brunt of Super Typhoon Rolly," Barry said.
The relief mission is funded by kindhearted donors of Operation Damayan, The Philippine STAR's humanitarian arm, notably Angelo King Foundation, San Miguel Corp. president and CEO Ramon Ang, and GT Foundation. Operation Damayan would also like to acknowledge additional donations received from the Philbaking Industry Group Inc., P50,000; and Marilyn Tiongson, P15,000. Funds raised for typhoon victims in Cagayan and Albay totaled P5.1 million.