Credit: Read the original article from PNA Latest News.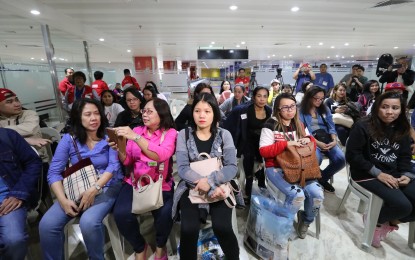 (File photo)
MANILA – A resolution expressing full support for Filipino migrants all over the world and commending the efforts of the government to promote and protect their rights and welfare has been filed at the House of Representatives.
Taguig-Pateros Rep. Alan Peter Cayetano and his wife, Taguig Rep. Maria Laarni Cayetano, filed House Resolution 1437 in time for the celebration of International Migrants Day on Friday.
The couple said the day is an occasion to "celebrate the triumphs and raise awareness about the challenges that 272 million migrants all over the world are experiencing".
"The Philippines stands by its conviction to support, protect, and uphold the dignity of every Filipino worker abroad, and as President Duterte stated, 'never to be slaves" but rather be respected and even recognized for their contribution to their host nations," they said in the resolution.
They said the country has shown its firm commitment to the protection of its migrants by being one of the 152 countries that adopted the United Nations Global Compact for Migration (GCM), an international framework that will manage migration and provide decent treatment for millions of migrants worldwide.
"The GCM is anchored on a comprehensive and holistic approach to all dimensions of international migration, and more importantly grounded on the values of state sovereignty, human rights, responsibility sharing, and non-discrimination," the resolution said.
The lawmakers recognized the efforts of the Department of Foreign Affairs (DFA) and Department of Labor and Employment (DOLE) in pushing the country to further pursue its advocacy of protecting the rights and conditions of all Filipinos abroad through bilateral agreements with countries employing many Filipinos.
These efforts resulted in the signing of a Memorandum of Understanding on Sept. 12, 2017 between the Philippines and the United Arab Emirates (UAE) to combat human trafficking and regulate recruitment agencies to ensure fair recruitment practices, benefitting around 700,000 workers in the area.
They also enumerated the actions of the House to address the concerns of migrant workers, including the passage on final reading of the bill creating the Department of Filipinos Overseas, which will be mandated to focus exclusively on the protection and promotion of the welfare and interest of every Filipino overseas.
They said the Bayanihan to Heal as One Act and Bayanihan to Recover as One Act also helped fund programs in various government agencies for OFWs and advocated for a "whole of government approach" to ensure that OFWs affected by the coronavirus pandemic are given "all the help they need".
The assistance for OFWs includes repatriation, testing, accommodation, access to livelihood assistance, skills and training programs, loan assistance, and employment opportunities.
"It (International Migrants Day) is an opportune time to pay homage to our modern day heroes who are making ends meet for the betterment of their families and loved ones outside the Philippine soil," the resolution read. (PNA)