Credit: Read the original article from Philstar Headlines.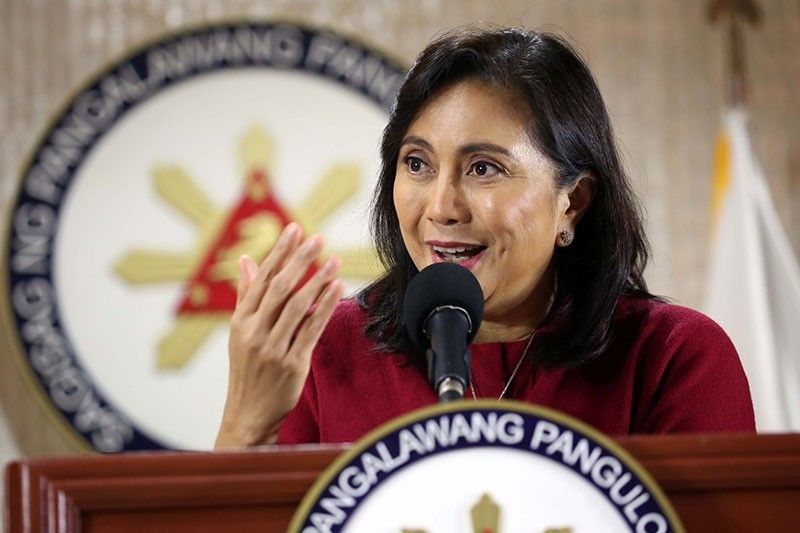 MANILA, Philippines — Vice President Leni Robredo yesterday renewed her call for the establishment of "more sturdy" and multi-story evacuation centers and other structures that could mitigate the impact of strong typhoons in the country.
Robredo made the call in light of the massive devastation brought by successive cyclones that hit the country, including Super Typhoon Rolly, in the past weeks.
"We should invest in infrastructure that could mitigate the effect of disasters," she said in her weekly program over radio station dzXL.
The Vice President said that in her home province Camarines Sur, the local government has put up seawalls along coastal areas to protect communities from storm surges.
Apart from seawalls, multi-story evacuation centers must be constructed in flood-prone areas, she noted as she also appealed for separate evacuation centers for animals.
"One of the public schools we visited in Tabaco (Albay) which served as an evacuation center, was destroyed at the height of Super Typhoon Rolly," she said.
Robredo urged local officials and experts to reassess the design of the buildings in areas hit by Rolly as these still suffered damage despite being considered typhoon-proof.
Meanwhile, Robredo lauded the efforts of local officials in Rolly-hit areas for mitigating the typhoon's impact.
"Actually, we have minimal casualties because of the (preparation) of local officials," she said.
The Vice President said she was told that many of those who were affected by Rolly have long been waiting to be relocated by the National Housing Authority (NHA).
"The mayors told me that we could have avoided such massive destruction had they been relocated," she added.
Robredo, who briefly served as chair of the Housing and Urban Development Coordinating Council, said she would inquire about the status of these relocation projects with the NHA.
Rolly, which slammed the Bicol region on Nov. 1, left at least 22 people dead and P14 billion worth of damage to infrastructure and agriculture.
'Logistical answer'
The country's vulnerability to disasters requires "a logistical answer" beyond the mere creation of the Department of Disaster Resiliency (DDR), Senate President Pro Tempore Ralph Recto said yesterday.
Recto was the latest of several senators to express their serious reservations in creating the proposed department among other new agencies, citing the already bloated and inefficient bureaucracy and lack of funds to bankroll them.
"There are many gaps in our calamity response and disaster resiliency, but the greatest gap is not the absence of some central agency, but in deployable logistics to respond to calamities," he said.
The senator underscored that "merely re-assembling agencies under one roof and then slapping a label (that you're now) a 'department' is not what our status as disaster-prone country solely needs."
"We don't need a top-heavy bureaucracy," he said.
Recto noted that many initiatives that can be done now are not contingent on the establishment of a new department, like cutting the red tape that slows down the release of calamity fund.
He backs the release of more funds to local governments as it is there on the ground that resilience and readiness are achieved.
The senator said the list of documentary requirements for tapping the calamity fund is long, but if a disaster-hit area has no electricity, computers have been blown, offices have been destroyed, and "personnel who are supposed to collate documents are injured, how will you make a request?"
"If you make a diagram on the process of availing calamity funds, it's like an electrical wiring. From request to approval, to release, to procurement, to delivery of reconstruction materials and construction, easily one hundred steps. Local governments are really getting it difficult," he said.
For him, the Quick Response Fund (QRF) should be quickly released, and in the case of Bicol and Southern Luzon, the relief and rehabilitation should be as swift as Rolly.
"You don't need a new department to set up regional hubs and stockpiles of food, medicine, (personal protective equipment) and construction materials. Pre-positioning and forward-deploying these will spare us from transporting relief goods all the way from Manila," he said.
Recto added that the government should also study the formation of "ready-to-deploy disaster response brigades," with one each stationed in Northern Luzon, Southern Luzon, Visayas and Mindanao.
Drawn from military and police units, each brigade shall consist of medical companies, a construction battalion, hygiene and sanitation specialists, among others.
The senator said the government should also tap local shipbuilders in building a fleet of hospital ships.
"We are an archipelago, and when roads are damaged many areas can only be reached by sea," he said. – Paolo Romero