Credit: Read the original article from PNA Latest News.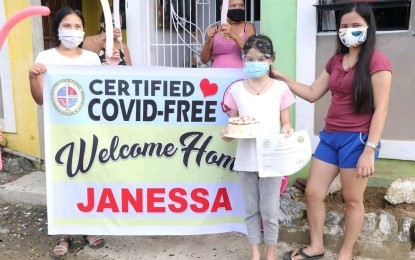 YOUNG COVID-19 SURVIVOR. A young Covid-19 survivor in Palo, Leyte receives a "welcome home" cake from the local government in this undated photo. The Department of Health on Wednesday (Dec. 16, 2020) reported that 8,943 or 91.71 percent of coronavirus patients in Eastern Visayas have recovered. (Photo courtesy of Palo local government)
TACLOBAN CITY – A total of 8,943 coronavirus disease (Covid-19) patients in Eastern Visayas have recovered from the illness, the Department of Health (DOH) reported on Wednesday.
The number represents 91.71 percent of the region's 9,724 confirmed cases since March, the DOH said.
In its latest case bulletin, the health department reported that 98.8 percent of the region's confirmed patients are either asymptomatic or have mild symptoms, while the rest are severe or critical cases.
This includes the region's 109 recorded deaths, mostly senior citizens and persons with serious illnesses.
The DOH attributed the region's high recovery rate to the high percentage of asymptomatic or mild patients or those cases managed in local community isolation units and temporary treatment and monitoring facilities.
However, these patients are transferred to a higher health care facility if further management is needed.
To date, the region has 672 active cases, with the addition of 156 new infections from the 810 laboratory results released Tuesday night.
Of the new cases, 34 each were reported in Leyte and Samar, 29 in Ormoc City, 20 in Samar, 18 in Tacloban City, 16 in Eastern Samar, four in Southern Leyte, and one in Biliran.
With the current situation, the DOH urged the public to remain vigilant and strictly practice the minimum health standards to break the chain of transmission, especially in participating in activities during the holiday season.
The health department encouraged everyone to use alternative noise-making tools in welcoming the new year instead of firecrackers and "torotot" or whistles for adults and kids due to respiratory droplets that would risk the spread of the virus. (PNA)