Credit: Read the original article from Philstar Headlines.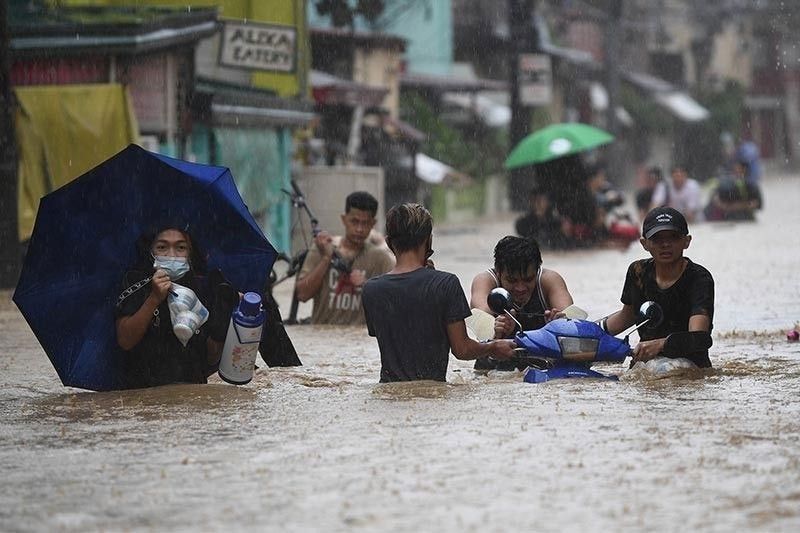 MANILA, Philippines — Classes in all levels in Marikina City have been suspended for a month due to the damage brought by Typhoon Ulysses in the city, Mayor Marcelino Teodoro said yesterday.
Teodoro confirmed this to reporters, saying the suspension applies to both public and private schools.
"How can students attend classes even if they have learning modules and gadgets, but their houses are submerged in mud?" he said. "One month suspension from this week, starting today (Nov. 16) and for the next four weeks."
Teodoro said he was amenable to extending the suspension "if necessary."
The allotted period, according to the mayor, should give school officials enough time to reproduce and redistribute learning modules, as massive flooding destroyed what students previously had.
"We need to establish a proper environment. That's something that we really need to do now," he added.
The Department of Education (DepEd) said that it will support the decision of local government units (LGUs) that will enforce lengthy class suspensions in their jurisdictions due to severe floods brought by Typhoons Ulysses and Rolly.
Malcom Garma, DepEd National Capital Region (DepEd-NCR) regional director, said they were already coordinating with the Marikina City schools division office (SDO) to formulate a catch-up plan for students in schools in the city.
Tens of thousands of houses were submerged in storm waters last week when Ulysses hit Marikina, with damage reaching about P10 billion, according to the mayor. This was because the Marikina River's water level rose to 22 meters, which was higher than the level recorded during Ondoy in 2009 at 21.5 meters.
The suspension came as dozens of student governments and groups called for a suspension of synchronous classes and deadlines, with some even appealing for an academic freeze, saying "no student," especially those who lost their homes and were affected by the typhoons, "should be left behind."
The mayor did not say if the city government was brokering considerations for Marikina residents who are studying in other parts of Metro Manila and nearby areas.
Citing city government figures, Teodoro said about 15,000 individuals remain in evacuation centers and still can't return to their homes. Many areas in the city still have no power and water supply.
In Rizal province, DepEd-Calabarzon had suspended classes from yesterday up to Nov. 20.
In a memorandum dated Nov. 15, Wilfredo Cabral, director of DepEd's Calabarzon region office, announced the suspension of distance-learning activities from Nov. 16 to 20 in Rodriguez, San Mateo, Cainta, Taytay, Baras-Pinugay and the uplands of Tanay.
"This is to provide affected personnel, families and the learners (time) to recover from the devastating effects of the typhoon," Cabral said in the memorandum.
In a separate memorandum, Cabral also suspended distance-learning activities in several schools in Antipolo City from Nov. 16 to 20 because of the effects of Typhoon Ulysses, such as "impassable roads due the damaged bridges, power outage and the dangers of landslide."
The schools were Calawis Elementary School, Kaysakat Elementary School, San Joseph Elementary School; Canumay Elementary School, Libis Elementary School, San Yisor Elementary School, Apia Elementary School, Paglitaw Elementary School, Calawis National High School, Kaysakat National High School and Canumay National High School.
June Arvin Gudoy, director of DepEd public affairs service, said that DepEd-Calabarzon only covers public schools in these Rizal towns. For private schools, this was up to the LGUs.
Replacing damaged SLMs
DepEd says it will release funds to their regional and SDOs to replace self learning modules (SLMs) that were damaged during Typhoons Ulysses and Rolly.
Education Undersecretary for finance Anne Sevilla said there was already an assessment being conducted to ascertain the extent of replacement activities for the SLMs they will have to undertake in affected regions.
"We have identified funding source in the (DepEd) central office for this 'replacement of damaged SLMs' and we are ready to download/supplement the financial resources of DepEd regions and schools division offices affected by the recent calamities," Sevilla told reporters.
Aside from the replacement of SLMs, the DepEd will also provide funds for the cleanup and repair of public schools, as well as DepEd offices in the affected regions and SDOs.
Sevilla added that the DepEd will also make sure that there will by psycho-social counselling and distribution of hygiene kits to affected DepEd personnel, whether teachers or non-teaching employees.
Prolonged suspension
The demand for prolonged suspension of classes amid disasters nationwide is gaining more support from youth groups, as the Kabataan party-list issued demands yesterday, including "mandatory suspension of all synchronous and asynchronous classes."
Earlier, the Samahan ng Progresibong Kabataan (SPARK) also urged the government to suspend classes up to Nov. 19 "in the light of the aftermath of five major typhoons in less than two weeks" and "the slow response of concerned government agencies."
"We demand the suspension of all classes and submission of academic requirements in all levels nationwide until Nov. 19," SPARK said in a statement.
In another statement, the Kabataan party-list in Laguna challenged "educational institutions and the government to act in the interests of the student body" and enforce a national academic break.
The party-list listed four demands from the government "for safe, quality, democratic and accessible education."
It urged the "mandatory suspension of all synchronous and asynchronous classes and "waiving due dates for all requirements and disallowing teachers from enforcing new requirements during the time period."
It also urged the allocation of "budgets to provide disenfranchised students gadgets, learning materials and adequate internet connection."
Meanwhile, Malacañang yesterday warned students who plan to go on academic strike that they won't finish their studies if they do not submit the requirements of their courses.?Some students of Ateneo de Manila have called for a mass student strike to protest what they described as the national government's "criminally neglectful" response to recent typhoons and the COVID-19 pandemic.
The strike was meant to express solidarity with students who are victims of calamities and who cannot be expected to catch up with their studies within three to five working days.
The students have also vowed to withhold the submission of any school requirement "until the national government heeds the people's demands for proper calamity aid and pandemic response."
Presidential spokesman Harry Roque said while academic freedom allows students to express their views, it also permits schools to impose academic requirements.
"If the academic requirements are not complied with, they have the right to deprive students who did not submit or finish academic requirements of (academic) degrees," Roque said at a press briefing. – Rainier Allan Ronda, Ding Cervantes, AlexisRomero