Credit: Read the original article from Philstar Headlines.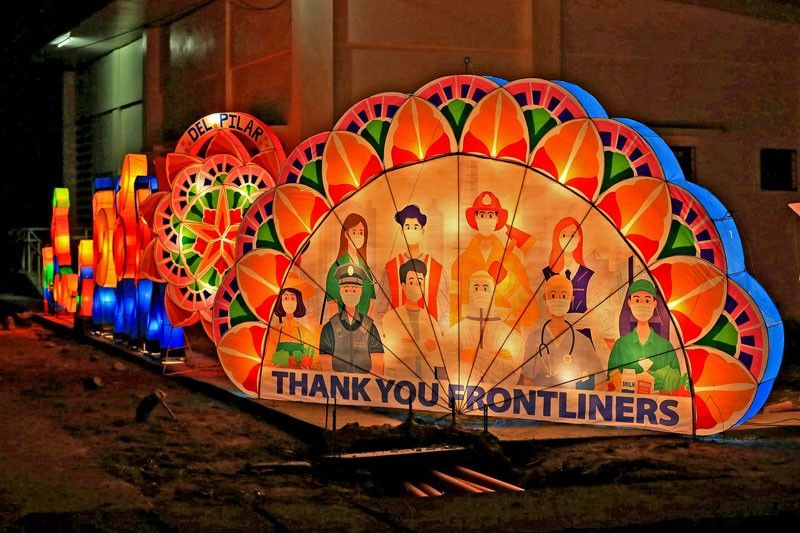 Lanterns of hope light up in San Fernando
Ric Sapnu (The Philippine Star) – November 22, 2020 – 12:00am
CITY OF SAN FERNANDO, Pampanga , Philippines — With just a few weeks until Christmas, this city lit up its lanterns in several key areas, promoting a "ray of hope" and honoring Fernandino frontliners amid the coronavirus pandemic.
The launching of the lantern displays last Nov. 16 at the city's Command and Control Center in Barangay San Isidro was witnessed by Mayor Edwin Santiago and former president Gloria Macapagal-Arroyo as special guest.
The first to light up lantern displays were the Heroes Hall in San Juan, the City Hall and Poblacion Area and the Civic Center in San Isidro.
Engineer Remedios Agoncillo, city investment promotion officer, said that while the city government remains focused on health care and social services, her office exerted effort to light up lanterns to give hope to Fernandinos amidst the pandemic.
"For this year, we are promoting a 'Ray of Hope.' At the start of the planning, we agreed on this theme," Agoncillo said in Filipino. "This is to give Fernandinos, the Kapampangans and the Filipino in general the hope that we shall overcome all these challenges."
Agoncillo revealed that due to limited funding, the materials used for this year's lanterns were recycled from the previous year's display.
The repair and improvement of the lanterns were led by two Fernandino renowned lantern makers, Arvin Quiwa and Roland Quiambao, who have been designing Parul Sampernandu (San Fernando lanterns) for years.
Some of the lanterns were donated by the city's stakeholders, including Converge ICT Solutions Inc. and PLDT Communications Inc., she said.
Santiago said that, with the pandemic, the lanterns' role has become more significant to the lives of Filipinos.
Meanwhile, the lighting of the displays along the Jose Abad Santos Avenue (JASA) and along the two flyovers in the city is set for the coming days, said Jeffrey Yutuc, CIPO project development officer II.
The lanterns along JASA were partly damaged due to the heavy rains and strong winds brought by Typhoon Ulysses the previous week but are now being repaired by the City Engineer's Office and lantern makers.
Also present during the activity were Vice Mayor Jimmy Lazatin, Third District Rep. Aurelio Gonzales Jr., Gov. Dennis Pineda, Dennis Uy, CEO of Converge ICT Solutions, and Dennis Magbatoc, assistant vice president of PLDT Enterprise.
Under the tourism and culture agenda of the Santiago administration, the city is steadfast in supporting its local lantern makers.
Recently, the city government rolled out its economic recovery assistance program in which the 30 registered and legitimate lantern makers in the city received P20,000 worth of monetary and in-kind assistance.