Credit: Read the original article from PhilStar Sports.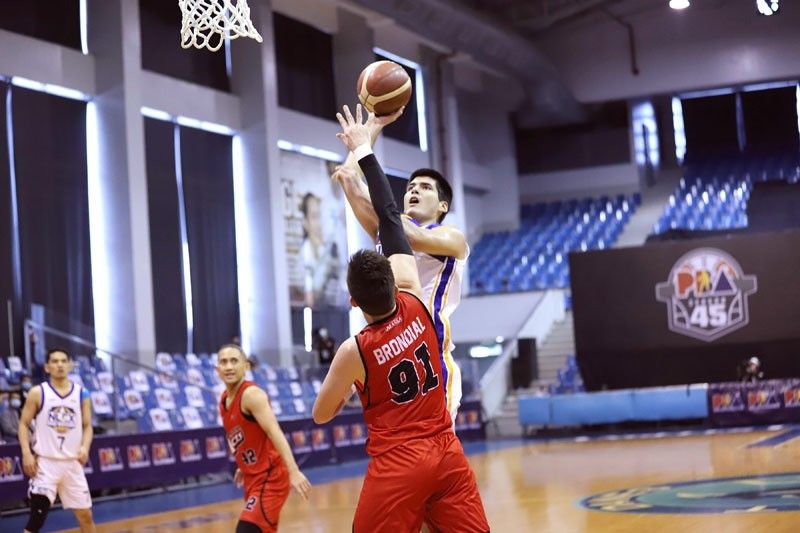 Ginebra grabs pole position
Olmin Leyba (The Philippine Star) – November 10, 2020 – 12:00am
SMART CLARK GIGA CITY, Pampanga, Philippines — Barangay Ginebra flashed its deadly form last night and secured the No. 1 spot in the Philippine Cup quarterfinals with a lopsided 102-80 win over Terrafirma at the AUF Sports Arena Powered by Smart 5G.
Criticized for its below-par performance in a one-sided loss to sister team San Miguel Beer last Sunday, the Gin Kings were never in trouble against the Dyip in nailing their eighth win in 11 games.
The Gin Kings may end up tied with either TNT Tropang Giga or Phoenix or both at 8-3 at the close of the elimination round but will still get the No. 1 seed by virtue of their victories over the two.
Japeth Aguilar went 10-of-10 from the field in scoring 21 points while Scottie Thompson had a near triple double with 13 points, 11 rebounds and nine assists.
Terrafirma took its ninth defeat with a lone win inside the bubble.
Earlier, Phoenix Super LPG and Alaska put themselves in good position in the tight race for the quarterfinals incentives as they secured win No. 7 over separate rivals.
The Fuel Masters wiped out a 16-point deficit with a scorching finish to prevail over also-ran Blackwater, 100-95, and get the inside track in the jockeying for the Top 4 with their 7-3 card.
The Aces, for their part, leaned on Mike DiGregorio's six-point outburst and Maverick Ahanmisi's big baskets in overtime to foil NLEX, 122-119, for 7-4 at the end of their elims campaign.
Alaska's victory in the hard-fought game at AUF Sports Arena Powered by Smart 5G put the squad at fourth spot while giving idle San Miguel, Meralco and Magnolia – all with 6-4 cards – a free pass to the Last 8.
Moreover, the Aces made the road to the next round a lot bumpier for NLEX (4-6).
To get a crack at a rubbermatch for the eighth quarters seat, the Road Warriors must win their last assignment against Terrafirma tomorrow and hope Rain or Shine (5-4) will lose to both TNT and Phoenix. That will force a playoff between NLEX and Rain or Shine for the last berth.
Ahanmisi spearheaded Alaska with 25 points, including a key putback that gave Alaska a 120-117 cushion, to go with 12 rebounds, four assists and three steals.
Earlier, Calvin Abueva flirted with a triple double with his 17-13-8 as Phoenix rallied past the Elite (2-8).
The Fuel Masters came out strong coming off the halftime huddle to turn the tables on after the nothing-to-lose Elite, and led by as many as 16 at 50-34.