Credit: Read the original article from PhilStar Lifestyle.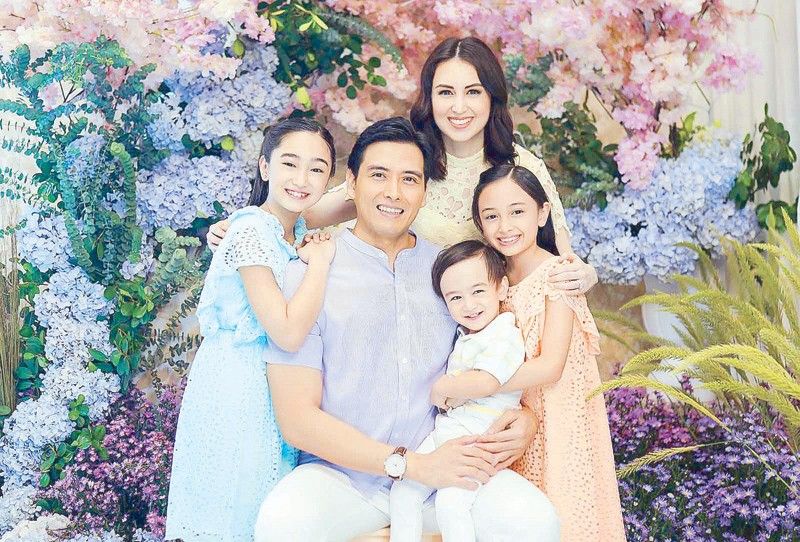 From accidental actor to public servant: What's it all about, Alfie?
One day, I came home from school crying. I was in grade two. I quickly rushed to my room in our rented townhouse in Loyola Heights so that no one would see me. Hurrying up, I didn't notice my dad was there in the dining room. He arrived a few minutes before me, fresh from his usual afternoon golf. He followed me to my room after a few minutes then sat down on the bed beside me. He asked me what had happened. I told him that some mestizo guys from school were bullying me and calling me "negro." He answered, "Okay lang yan, anak. Huwag kang mag­papaapekto sa mga ganyan." I was surprised to hear this from him, a very strong and no-nonsense kind of man. I was expecting him to say something like fight back or vindicate yourself. So I asked, "Po? Ano po ibig niyong sabihin? Hayaan ko na lang po sila?" And he said, "Bakit, nakarinig ka na ba ng 'tall, white and handsome'?" then laughed a bit. "Be proud of your color. Ipagmalaki mo ang pag­kakayumanggi mo. Mana ka kasi sa Daddy mo. Parehas tayong maitim, malakas ang dating!" said my dad, with a naughty laugh. "Balang araw, ikaw ang magiging 'tall, dark, and handsome,' kaya dapat kumain ka nang marami para tumangkad ka," he added. Then I smiled. I felt a lot better. For my dad, I was already dark… and handsome. So to become taller, and not to take revenge on the bullies, was the immediate goal instead. Did the kids at school bully me again? Yes. But my confidence started to grow after that one special afternoon with Dad. Soon enough, the bul­lying stopped because everyone noticed the positive change in me. Alfie started to believe in himself and have confidence. And among all the other things I learned about life from thereon, there were three important lessons I learned from my dad that day. First is that it's up to you how to put things into perspective. Second, embrace who you are. And third, there are many ways to handle adversity, and it doesn't always have to be head-on.
On being an actor
I am an accidental actor. I had a totally different plan carved out for me. At 18, I was deter­mined to follow the footsteps of my mother and become a law­yer. That's why I took a course in management economics. But fate had a different plan for me. I suddenly found myself bitten by the acting bug in one of our plays in English 101. In college, I joined Tanghalang Ateneo, a theater group in Ateneo, and soon enough, my acting "career" began. I played Orsino in Shakespeare's Twelfth Night and was given many other roles. From a "taumbayan" and foot soldier extra, to a con­vincing kontrabida, and finally to lead roles, I was able to learn quite a lot about the art of acting. I was so in love with the theater that I slept on the center of the empty stage of Rizal Mini Theatre during my long breaks, with my thick economics books as my pil­low. I loved the silence of it when empty. And I loved the applause from a genuine audience every performance night. But I was im­mature then, trying hard to grow up. My life was full of drama, from family to financial challenges, to adolescence. Acting became my refuge. And the theater became my home. It saved me.
I have tried and thrived, from stage to radio to television to film acting. I wouldn't be who I am today if it were not for the lessons I've learned as an actor, an artist.
As a public servant
At the height of my televi­sion career with GMA 7 network in 2009, a lot of people were shocked when I suddenly decided to quit showbiz and run for councilor for Quezon City in the 2010 lo­cal elections. Many doubted my ability to become a public ser­vant just because of the fact that I was an actor. They looked down on actor-politicians and I felt it, firsthand — from news articles to gossip columns, from deroga­tory comments to actual cursing, and from fans to total strangers. At one point, someone even said, "Ang kapal ng mukha mo, wala kang alam diyan!" It was very hurtful. But I had to swallow it. And I did not waiver. I knew that, with this decision, I could help effect positive change with impact. So, with the support of my family and people who know me well, I carried on and became a Quezon City councilor in 2010. That was 10 years ago. I am now on my third and final term as a congressman. And while time did fly by very quickly, so much has happened in those 10 years, and I've been honored with several awards for public service, including the Ten Outstanding Young Men Award for Public Service in 2019.
As a husband and father
You'll know she's the one when you meet her. It's hard to explain. It will just happen when you meet the love of your life. But you'll never know what's in store for you when you actually get married. I was 28 years old when I met Yasmine in a town fiesta in Laguna. She was 20. Love at first sight, definitely. Destiny, definitely. It was so easy to fall in love with one another as we were young, idealistic, and even im­mature then. We had petty fights and argued on almost any topic: time, attention, jealousy, cultural differences (she's half Italian), schedules, what food to order, what movie to watch, where to travel, the color of the belt I'm wearing, if I approve of what she's wearing, etc., etc. Name it, we fought about it. All of it. Once, we even had an argument about who was going to put down the phone first. It was crazy. But we survived it all, so far. In retrospect, though extremely difficult, what was hap­pening was that we were discov­ering ourselves, and growing up along the way. Having Yasmine in my life is the greatest blessing God has given me. I am happiest in knowing that she is the mother of my children.
* * *
Alfred Vargas is the Congress­man of the 5th District of Quezon City