Credit: Read the original article from Philstar Headlines.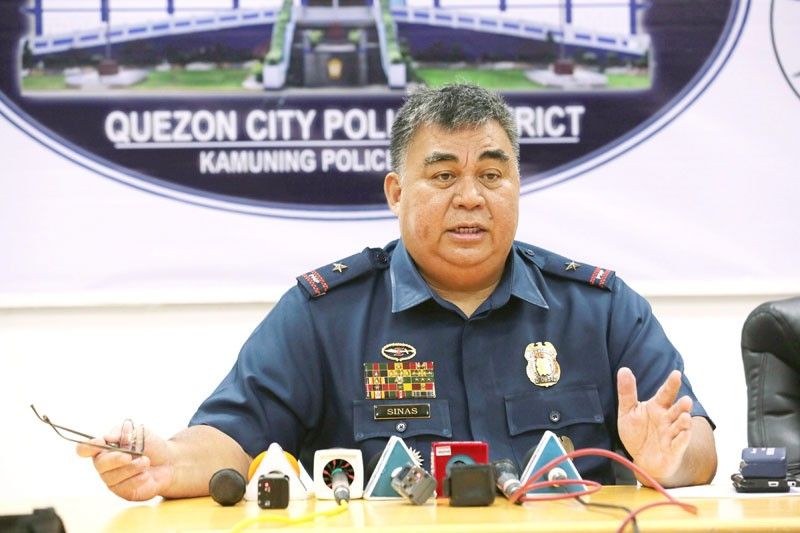 MANILA, Philippines — The controversial police general facing charges over a birthday party held despite a ban on mass gatherings has been named the country's next police chief.
President Duterte has appointed National Capital Region Police Office chief Maj. Gen. Debold Sinas as the new head of the 200,000-strong national police, a move that critics said reflected patronage and double standard in government.
Sinas replaces Gen. Camilo Cascolan, who is stepping down today as Philippine National Police chief upon reaching the mandatory PNP retirement age of 56, presidential spokesman Harry Roque said.
Addressing criticisms of the appointment, Roque said the President does not need to justify his choice.
"Presidential appointments are really very executive in character. It is a prerogative of the President and he need not make any explanation for his appointment. But nonetheless, the President looked at the track record of the appointee and the President had said that new PNP chief Sinas has contributed a lot to his war on drugs," Roque said at a press briefing yesterday.
"Do not worry. The President believes chief Sinas will be effective in his new position and let's trust the President on this decision," he added.
Asked what prompted Duterte to choose Sinas, Roque said it was the police general's "record as an anti-drug crusader."
"He is, for the moment, the most trusted by the President. So let's leave it at that," Roque said.
"I think it was Senator (Panfilo) Lacson who said nobody is perfect but let's also look at the achievements of the person while in service and I think that's what happened to General Sinas," the Palace spokesman added.
Sinas and 18 other police officers are facing criminal and administrative cases over a May 8 'mañanita' birthday party that violated a ban on mass gatherings in areas with active COVID-19 cases or under the strictest enhanced community quarantine (ECQ).
Despite the outrage over the protocol breach, Duterte had rejected calls for him to fire Sinas, saying it was not the fault of the police general if some people serenaded him during his birthday. The President had also described Sinas as a "good" and "honest" officer. Roque said the promotion does not clear Sinas of the charges filed against him.
"I don't think so. That's not how our laws operate," the Palace spokesman said.
Roque said Duterte has ordered Sinas to continue the war on illegal drugs and to sustain the gains on peace and order, which he said were affirmed by a recent Gallup poll that ranked the Philippines as the 12th safest country in the world.
Pressed whether he thought Sinas could inspire people given his involvement in the mañanita controversy, Roque replied: "Let's give him a chance and he has six months to prove his worth."
Qualified
Interior Secretary Eduardo Año said Sinas is "qualified for the position" and, in apparent response to critics of his appointment, stressed that "the President has the absolute prerogative to appoint the chief PNP from among the current PNP generals."
Año earlier sent Duterte three names of top PNP officials who can replace Cascolan. He did not say if Sinas was among the three.
Based on rules, the President – upon the recommendation of the National Police Commission – can choose the PNP chief from among the roster of the most qualified and senior officers. This means police officers with at least a rank of brigadier general may be chosen.
Sinas' appointment bypassed two of his classmates from the Philippine Military Academy's Hinirang Class of 1987: Lt. Generals Guillermo Eleazar and Cesar Binag, the second and third in command in the PNP, respectively.
Eleazar is the deputy director for administration, while Binag is the deputy director for operations.
While public favor has not been on his side since his controversial birthday bash in May this year, Año said he expects Sinas to intensify the government's crackdown on illegal drugs, crime, insurgency and terrorism – considering his background.
"Likewise, he must set the standards on the performance and discipline, making every policeman count while leaving no room for scalawags," Año said.
Sinas, who will retire on May 8 next year when he turns 56, served the Criminal Investigation and Detection Group, Intelligence Group, the Regional Police offices of Soccsksargen, Zamboanga Peninsula, Central Luzon and Cordillera in various capacities from 2003 to 2017.
After serving for two years as secretary of Directorial Staff at the National Headquarters, he went on to become director of the PNP Crime Laboratory and the Central Visayas Police Office before being assigned as National Capital Region Police Office chief in December 2019.
Questions about the President's decision surfaced as it was announced, raising fears that it could set undesirable precedence, considering the controversies Sinas faced before his ascension to his new post.
Año said no one can question this decision, unless Sinas "really has a case and he is convicted."
In May this year, Sinas faced a probe from the PNP's Internal Affairs Service and the National Bureau of Investigation for breaching quarantine protocols while the entire island of Luzon was under strict lockdown. A party, captured in photos uploaded on the NCRPO's public information Facebook page, was held inside Camp Bagong Diwa in Taguig City for Sinas' birthday.
Sinas was also facing a complaint filed by the Internal Affairs Service before the Taguig City prosecutor's office but has since kept his post as NCRPO chief, even urging his critics to "move on."
He was also probed by the PNP for allegedly harassing a family in a bid to evict them from an old police compound in Taguig City. The family filed administrative and criminal charges of "trespassing, harassment, threats and grave misconduct" against the group of lawmen led by Sinas.
No cases vs Sinas
Año said the cases were still "under preliminary investigation and they haven't been resolved yet."
"It hasn't reached the courts, so he doesn't have a pending case," Año said.
Año, who was among the officials who defended the birthday fete for Sinas in May, said the President's decision won't adversely affect the morale of the police force, as the mañanita issue was a "menial thing."
"It's a small thing, to be quite honest… It's an issue wherein the President himself defended Sinas from so let's give him a chance. The President has spoken, let's give Sinas a chance," he added.
Cascolan, who turns 56 today, will formally turn over the PNP leadership to Sinas in a change of command ceremony at Camp Crame.
Yesterday, the retiring PNP chief implored all 218,000 police personnel to support Sinas as the next PNP chief.
"In a dynamic organization like the PNP, only the players are changed, but the strategic vision remains constant and endures until the endgame in year 2030 when we shall have completed our journey to complete organizational development and service excellence," Cascolan said in a statement.
Despite the controversies that hound Sinas, Cascolan said he was bringing to the police force a "sterling" track record in administrative management from his assignments and training all over the country.
Cascolan also said he was confident that Sinas' command would sustain the momentum of the national campaign against crime, illegal drugs, terrorism and corruption.
Mixed reactions
Senators have mixed reactions to Sinas' appointment. "This appointment will definitely raise a lot of eyebrows. Despite that, Gen. Sinas should demonstrate his sincerity to continuously clean up the ranks of our police force, starting by leading by example at all times." Sen. Sherwin Gatchalian said.
"This is a chance for him to show us, the Filipino people, that he is the best man for the job and he has the heart to serve the nation," said Gatchalian.
Sen. Ronald dela Rosa, a former PNP chief, called Sinas a "good choice" for top policeman.
"My advice to him: continue the internal cleansing program and sustain the gains of PNP's anti-drugs and anti-criminality campaign," Dela Rosa said.
Sen. Francis Pangilinan said he was not surprised with the appointment of Sinas despite his involvement in controversies.
"With all due respect, it is no surprise that allies (of the administration) involved in cases of irregularities are not being punished. They're condoned or even promoted – Faeldon, Lapeña, Duque, etc.," Pangilinan said, referring to former Bureau of Corrections director Nicanor Faeldon, former Customs chairman Isidro Lapeña and Health Secretary Francisco Duque III.
Senate President Vicente Sotto III said Sinas should start by reorienting the police force, especially the anti-carnapping group, apparently due to the killing of a policeman and the husband of the Navy officer during a routine check on the Manila-Cavite Road on Nov. 6.
"He should start by reorienting the police force especially the anti-carnapping group. A person, who refused to give the vehicle's papers, should be arrested immediately. The man pulled out a gun first and a PNP member died all because they were tentative in arresting the suspects. Just because there was a Navy uniform in the car, they thought that the person could no longer be arrested immediately when the violations were so obvious," Sotto said.
Sen. Bong Go welcomed the appointment of Sinas. "Given his track record, I am hopeful that he will continue and strengthen further our relentless fight against illegal drugs, criminality and corruption," said Go.
"I trust the wisdom of President Duterte in choosing Gen. Sinas – all things considered. After all, as the President, it is entirely his prerogative whom to appoint from those qualified for the post," Go added.
Sen. Panfilo Lacson, also a former PNP chief, said that barring his involvement in controversies, Sinas could be a good choice for the top PNP post.
"I've known him as a performer, always mission-oriented and undoubtedly will lead the police institution the way it should be led," Lacson added.
Meanwhile, the militant Pambansang Lakas ng Kilusang Mamamalakaya ng Pilipinas (Pamalakaya) denounced Sinas' appointment.
"He should be facing the full throttle of the law over violation of the quarantine protocols when he and his men held a mañanita party in the middle of a pandemic," Pamalakaya said. – Edith Regalado, Cecille Suerte Felipe, Ding Cervantes