Credit: Read the original article from PNA Latest News.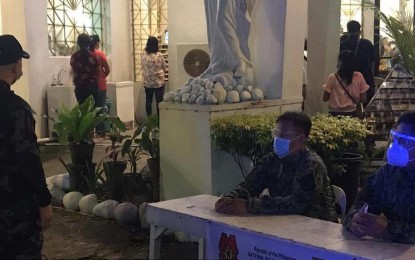 CHURCH WATCH. Personnel of Police Station 8 in Bacolod City man the assistance desk at the San Antonio Abad Parish Church during the start of the nine-day dawn masses on Wednesday (Dec. 16, 2020). The city's curfew hours have been modified to run from 11 p.m. to 3 a.m., from December 15 to 31, in consideration of the traditional dawn masses. (Photo courtesy of Bacolod City Police Office, Police Station 8)
BACOLOD CITY – Curfew hours in this city have been adjusted as the nine-day dawn masses in Catholic churches started on Wednesday.
Mayor Evelio Leonardia issued Executive Order (EO) 80 on Tuesday midnight, modifying curfew hours, from December 15 to 31, to now run from 11 p.m. to 3 a.m. of the following day.
"(This is) in consideration of (such) customs and traditions of the Christmas season/holidays, which Filipinos look upon as a family bonding and social interaction," Leonardia said.
The traditional dawn masses, popularly known as Misa de Gallo or Misa de Aguinaldo, is observed from December 16 until Christmas Eve on December 24.
Last month, Bishop Patricio Buzon of the Diocese of Bacolod requested Leonardia for a review of the existing curfew hours to accommodate the traditional dawn masses.
"In these difficult times, the people need, more than ever, the Christmas spirit and the Yuletide cheer," Buzon said.
On Dec. 1, Bacolod started implementing shortened daily curfew hours from only 11 p.m. to 4 a.m. as it reverted to modified general community quarantine (MGCQ) status until year-end.
Before that, the curfew was set at 10 p.m. to 4 p.m. when the city was placed under modified enhanced community quarantine (MECQ) in September and under general community quarantine (GCQ) from October to November.
In neighboring Bago City, Mayor Nicholas Yulo also issued EO 67, prescribing new curfew hours from December 16 to 31 "in response to the request from the religious sector in light with the celebration of Aguinaldo masses".
Starting December 15, the city's new curfew hours is from 10 p.m. to 3 a.m. of the following day.
EO 67 underscored the existing health protocols in every religious service such as strict observance of venue capacity limitation, social distancing, and proper wearing of face mask and face shield.
Also included are maintenance of contract tracing logbook and provision of hand-washing and alcohol stations. (PNA)