Credit: Read the original article from PNA Latest News.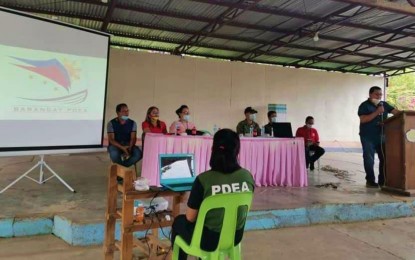 ANTI-DRUG ADVOCACY. Personnel of the Philippine Drug Enforcement Agency in Region 12 are soliciting the help of village officials to effectively clear North Cotabato villages of illegal drugs. In this undated photo, village officials of Makilala, North Cotabato undergo a seminar on how to identify drug personalities' behavior. (Photo courtesy of PDEA-12)
COTABATO CITY – A total of 436 out of 543 villages in North Cotabato have been declared "drug cleared" by the Philippine Drug Enforcement Agency (PDEA) in Region 12, officials said Friday.
PDEA-12 Director Naravy Duquiatan told members of the North Cotabato Provincial Anti-Drug Abuse Council (PADAC) that the process included anti-drug operations and similar law enforcement operations to free the villages from the illegal drug menace.
"As a result of the law enforcement, drug personalities decided to take another chapter of their lives and that was to live normal lives," Duquiatan said.
For the past several months alone, Duquiatan reported that more than PHP10 million worth of shabu and marijuana stuff were seized in various law enforcement operations in North Cotabato's 17 municipalities and one-city component areas.
She added that close to 8,000 drug personalities from the province who surrendered to authorities have availed of livelihood assistance from the government to support their decision to return to normal lives. (PNA)