Credit: Read the original article from Philstar Headlines.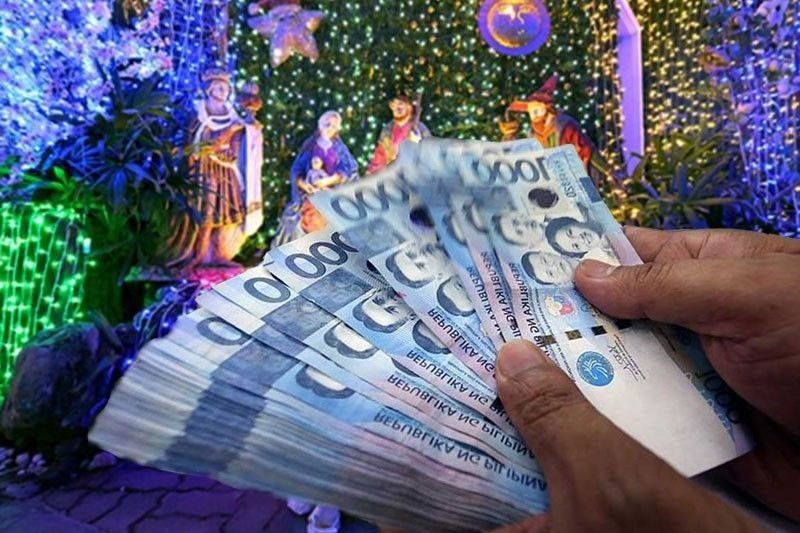 MANILA, Philippines — The 1.5 million government workers will be receiving their Christmas bonus equivalent to a month's salary – plus a P5,000 cash gift – starting this week, a senior administration lawmaker disclosed yesterday.
Rep. Mike Defensor of party-list Anakalusugan, chairman of the public accounts committee of the House of Representatives, said this is based on Salary Standardization 5 (Republic Act 11466), which stipulated that such yearend bonus will be given every November.
"I am assuming that the budget secretary has released the funds needed for the payment of the government workers' Christmas bonus and P5,000 cash gift," he said, noting that this mandate is stated in National Budget Circular 579, which the Department of Budget and Management issued in January this year.
He said if the funds are already available, agencies could begin giving the bonus on Nov. 15.
"And since this week's payday falls on Sunday, the bonus could be advanced as early as Thursday for personnel on a four-day workweek, or Friday for those on the usual five-day work schedule, or on Monday," Defensor said.
In 2019, he said most agencies released the Christmas bonus in mid-November.
He said if government employees intend to do shopping after receiving their yearend incentives, they should do it early to avoid the usual Christmas rush and the attendant traffic jams next month.
At the same time, Defensor urged private sector employers to release the 13th month pay or yearend bonus of their employees early. Paying the bonus ahead of the Dec. 25 schedule would be a "gesture of compassion" on the part of employers, he said.
"That will surely ease the financial burden our workers and our people have to face every day because of the COVID-19 pandemic and the resulting economic difficulties. Many of them are forced to resort to borrowing money just to make both ends meet," he added.
The SSL (RA 11466) for government employees, which President Duterte signed last Jan. 8, contains the newest four-year salary upgrading program in the bureaucracy. Budget Secretary Wendel Avisado's Budget Circular 579 implements the program.
Under the law, the lowest-paid worker gets an adjusted monthly salary of P11,551 up to P12,244, depending on length of service, this year. The pay increases to a range of P13,000 to P13,780 on the fourth year (2023).
On the other hand, the highest-paid official, the President, receives P407,734 this year. His salary goes up to P431,718 in 2023.
The law applies not only to national government agencies but to state corporations and local government units as well. However, it does not apply to Duterte and incumbent members of the House of Representatives and the Senate. The Constitution prohibits them from being beneficiaries of their official acts.
Meanwhile, the Civil Service Commission (CSC) issued stricter guidelines on work from home (WFH) and other alternative work arrangements (AWAs) for government employees amid the prevailing quarantine rules during the COVID-19 pandemic.
Under CSC Memorandum Circular 18 Series of 2020 dated Oct. 15, a copy of which was released to the media yesterday, government agencies are now required to adopt their own internal point system for employees under the WFH arrangement.
"Agencies under WFH arrangement may adopt performance standards to guide employees in the delivery of assigned tasks, like a point system where each output is assigned points based on length of time, complexity or other criterion which are aligned with the CSC-approved agency SPMS (Strategic Performance Management System)," the CSC's new memorandum read.
CSC commissioner Aileen Lizada said this is to ensure that all government employees working from home are meeting the tasks expected from them.
"Each output should have assigned points based on the length of time, complexity or other criterion which are aligned with the CSC-approved SPMS. The HR together with the head of agency can do their own internal guidelines regarding their point system," she said in an audio statement sent to reporters yesterday.
The CSC MC 18 or "Revised Interim Guidelines for Alternative Work Arrangements and Support Mechanisms for Workers in the Government" is an upgrade of its MC 10 Series of 2020 issued last May.
The CSC said the WFH arrangement shall still be adopted in areas placed under the enhanced community quarantine and modified ECQ status.
However, the CSC clarified that the WFH arrangement may also be adopted in areas placed under general community quarantine and modified GCQ, "where public transportation shall operate at a reduced capacity and physical/social distancing is required in the workplace."
"Agencies located in areas placed under GCQ or MGCQ shall ensure that the whole workweek is manned in order not to prejudice public service delivery," it said.
Under the revised guidelines, government employees who will request for the WFH arrangement or any other AWAs or special schedules due to health reasons such as immunodeficiency, comorbidities and pregnancy must back their claims with medical certificate and other medical records.
The new guidelines also stressed that "employees under work-from-home are not entitled to compensatory overtime credit/overtime pay."
The CSC said skeleton workforce and compressed (four-day) workweek arrangements may still be adopted by government agencies in areas under ECQ, MECQ, GCQ and MGCQ "provided that the required 40-hour workweek is complied with."
The CSC said employees under the skeleton workforce shall be entitled to compensatory overtime pay for services rendered beyond the normal eight-hour scheduled workday or 40 hours a week and those rendered on rest days or holidays and special non-working days.
It also directed the government agencies to submit a report on their implementation of alternative work arrangements to the respective CSC regional offices "for policy formulation and records purposes." – Elizabeth Marcelo